Taloubet K Z · Heartbreaker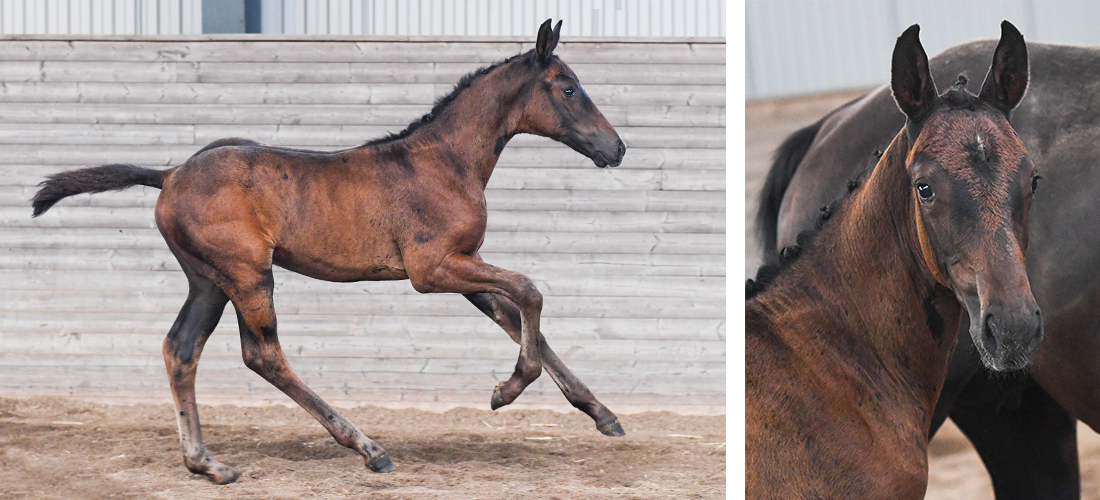 Fäderneinformation
Taloubet K Z 9354
Född 2000 i Nederländerna (Galoubet A – Polydor – Pakt)
Taloubet K Z har en lång och framgångsrik karriär bakom sig tillsammans med Christian Ahlmann. Några av höjdpunkterna är bronsmedaljen för det tyska laget på OS i Rio 2016, EM-silver i lag och vinst i världscupsfinalen 2011. Taloubet K Z har otaliga vinster i svår internationell hoppning som kröntes med hans sista tävling i januari 2018 där han stod som segrare vid världscupstävlingen i Leipzig. Totalt har han hoppat in otroliga två miljoner euro i prispengar! Hans avkommor visar samma kvalitet som deras far, och Christian Ahlman har nu hans godkände son Take a Chance on Me Z som nästa topphäst. Denna har redan som tioåring flera segrar och placeringar i de allra högsta klasserna. Taloubets moder
Krista har lämnat fyra godkända söner, där Big Star JR K Z tävlar svår internationell hoppning. Ytterligare tre avkommor tävlar i toppsporten.
Säljaruppgifter
Eva Gudmundsson
Flemminge Gård
610 32 Vikbolandet
+46 706 – 381 676
eva.oa@telia.com
Ägaren är momspliktig
Sire
Taloubet K Z 9354
Born 2000 in the Netherlands (Galoubet A – Polydor – Pakt)
Taloubet K Z had a long and successful career under Christian Ahlmann. A few of the highlights include the team bronze medal for the German team at the 2016 Olympic Games in Rio, team silver in the European Championships 2011 and individual gold in the 2011 World Cup final. Taloubet K Z has many victories in S-class international jumping. The last competition of his career ended with a victory at the World Cup competition in January 2018 in Leipzig. He has earned the incredible sum of two million euro in prize money over his career. His offspring show the same quality as their sire and Christian Ahlman already has his approved son Take a Chance on Me Z as his next top horse. This horse has several victories and placings in the top levels already as a ten-year-old. The dam Krista has produced four approved sons, where Big Star JR K Z is competing in S-class international jumping. Yet another three offspring are competing in the top sport.
Seller
Eva Gudmundsson
Flemminge Gård
610 32 Vikbolandet
+46 706 – 381 676
eva.oa@telia.com
The owner is liable for VAT
Möderneinformation / Dam line
| | | | |
| --- | --- | --- | --- |
| Vonda T |   | 2002 6 avk 11-19, H-index 133 |   |
| 11 | Zoda T | S e Zorro |   |
| 12 | Jé Suis Lávenir | H e Corlensky G |   |
| 13 | Vernon F | H e Diabeau van de Heffinck |   |
| 14 | Viga F | S e Vigo d'Arsouilles | G Dipl., Delt. Scand. Open, H-index 135 |
| 18 | Vicera F | S e Cicero van Paemel Z |   |
| 19 | Veilleux F | H e Taloubet K Z |   |
| Roxette |   | 1998 1 avk 02 |   |
| 02 | Vonda T | S e Heartbreaker | H-index 133 |
| Gonda |   | 1988 5 avk 93-99, Stb Ster |   |