Diabeau van de Heffinck · Favorit Ask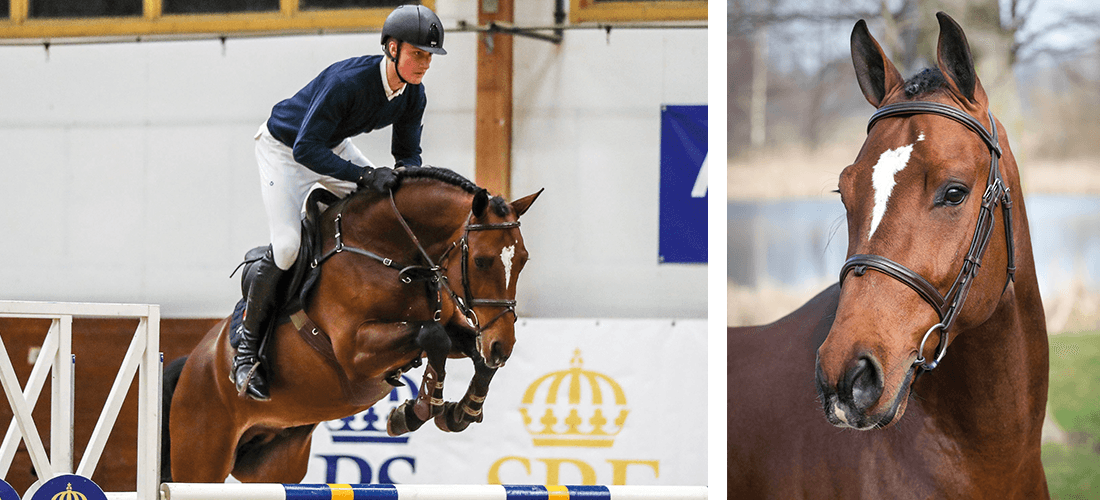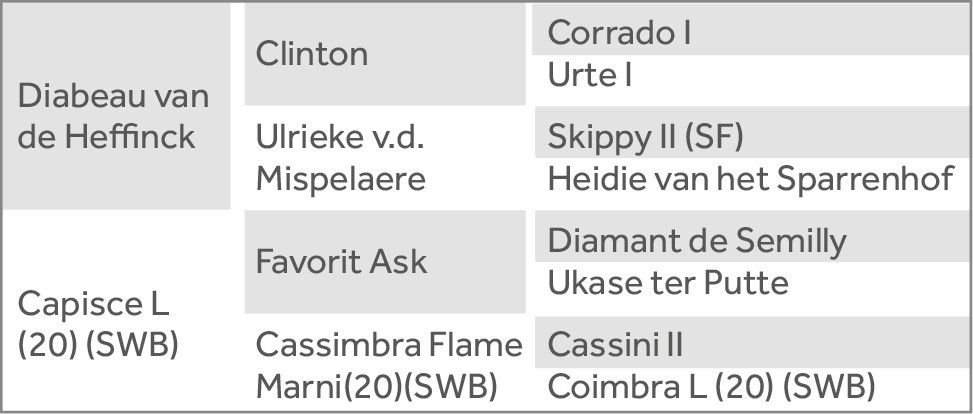 Fäderneinformation
Diabeau van de Heffinck 1297
Född 2003 i Belgien (Clinton – Skippy II – Lugano van la Roche)
Diabeau van de Heffinck är elithingst i Belgien, tack vare sina framgångsrika avkommor och sina egna prestationer. Redan som fyraåring var han i topp i sin årskull, och under unghäståren var Diabeau van de Heffinck i topp i unghästklassernas samtliga årgångar. Han har sedan tävlat vidare i internationell svår klass med vinster och placeringar. Hans mor, elitstoet Ulrieke van de Mispelaere, har själv tävlat i 140 hoppning och har även lämnat en avkomma som tävlat i motsvarande svårighetsgrad.
Säljaruppgifter
Leif Medin
Ramsberg 1
649 91 Sparreholm
+46 703 – 277 338
avelochsport@hotmail.com
Ägaren är momspliktig
Sire
Diabeau van de Heffinck 1297
Born 2003 in Belgium (Clinton – Skippy II – Lugano van la Roche)
Diabeau van de Heffinck is an elite stallion in Belgium due to his successful offspring and his own competition performance. He was at the top of his year already as a 4-year old, a trend that continued throughout this youngster years with top placings every single year. His career continued into international S-class jumping with victories and placings. His dam, the elite mare Ulrieke van de Mispelaere, has competed in 1.40 m jumping and has produced an offspring that competed at the same level.
Seller
Leif Medin
Ramsberg 1
649 91 Sparreholm
+46 703 – 277 338
avelochsport@hotmail.com
The owner is liable for VAT
Möderneinformation / Dam line
| | | | |
| --- | --- | --- | --- |
| Capisce L (20) |   | 2011 2 avk 15-19, H-index 126 |   |
| 15 | Ramsbergs Vincent L 1397 | H e Diabeau van de Heffinck | Gdk hingst, final Scandin. Open 4 år. |
| 19 | Celavi L | S e Nintender |   |
| Cassimbra Flame Marni (20) |   | 2007 2 avk 11-18, H-index 128 |   |
| 11 | Capisce L (20) | S e Favorit Ask | H-index 126 |
| Coimbra L (20) |   | 2002 3 avk 07-18, H-dipl., 130 hoppn., H-index 137 |   |
| 07 | Cassimbra Flame Marni (20) | S e Cassini II | H-index 128 |