Comilfo Plus Z · Triomphe de Muze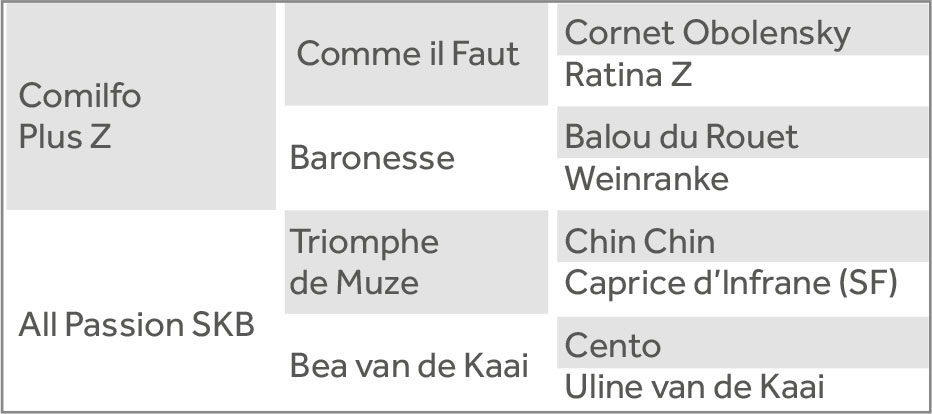 Fäderneinformation
Comilfo Plus Z 9204
Född 2009 i Tyskland (Comme il Faut – Balou du Rouet – Weinberg)
Comilfo Plus Z bevisade sin kapacitet redan under unga år. Han blev femteplacerad på unghäst-VM som sexåring och har startat upp till 145 hoppning med Christian Ahlmann innan en skada satte stopp för tävlingskarriären. Han har redan lämnat godkända söner och hans äldsta avkommor är på väg upp i klasserna och har redan varit ute på de internationella tävlingsbanorna.
Comilfo Plus Z har en yngre helbror som även han är godkänd för avel, och ytterligare en bror som tävlar i 145 hoppning. Hans moder, Baronesse, har ett syskon i svår klass i hoppning och flera i medelsvår hoppning. Hon är mormor till den godkända premiehingsten Comme Prevu.
Säljaruppgifter
Lars-Göran Winqvist
Skåparyd Södergård 7719
343 96 Hallaryd
+46 702 – 696 380
filippa22@gmail.com
Ägaren är inte momspliktig
Sire
Comilfo Plus Z 9204
Born in 2009 in Germany (Comme il Faut – Balou du Rouet – Weinberg)
Comilfo Plus Z proved his capacity early on. He placed 5th at the World Young Horse Championships as a 6-year old and started in 1.45 m jumping under Christian Ahlmann before an injury put a halt to his further show career. He's already produced approved sons and his oldest offspring are on their way up and have already jumped into the international arenas.
Comilfo Plus Z has a younger full brother that also is approved for breeding and a brother that competes in 1.45 m jumping. His dam, Baronesse, has a sibling that jumps in S-class and several in M-class. She is the granddam to the approved premium stallion Comme Prevu.
Seller
Lars-Göran Winqvist
Skåparyd Södergård 7719
343 96 Hallaryd
+46 702 – 696 380
filippa22@gmail.com
The owner is not liable for VAT
Möderneinformation / Dam line
| | | | |
| --- | --- | --- | --- |
| All Passion SKB |   | 2006 2 avk 16-19, 140 hoppn. |   |
| 16 | Passion's Angel VHL | S e Tangelo van de Zuuthoeve |   |
| 19 | Passion's Hero | H e Comilfo Plus Z |   |
| Bea van de Kaai |   | 2001 7 avk 06-16 |   |
| 06 | All Passion SKB | S e Triomphe de Muze | 140 hoppn. |
| 08 | Indie SKB | S e Tinka's Boy | 140 hoppn. |
| Uline van de Kaai |   | 1997 3 avk 01-11 |   |