Million Dollar · Carthago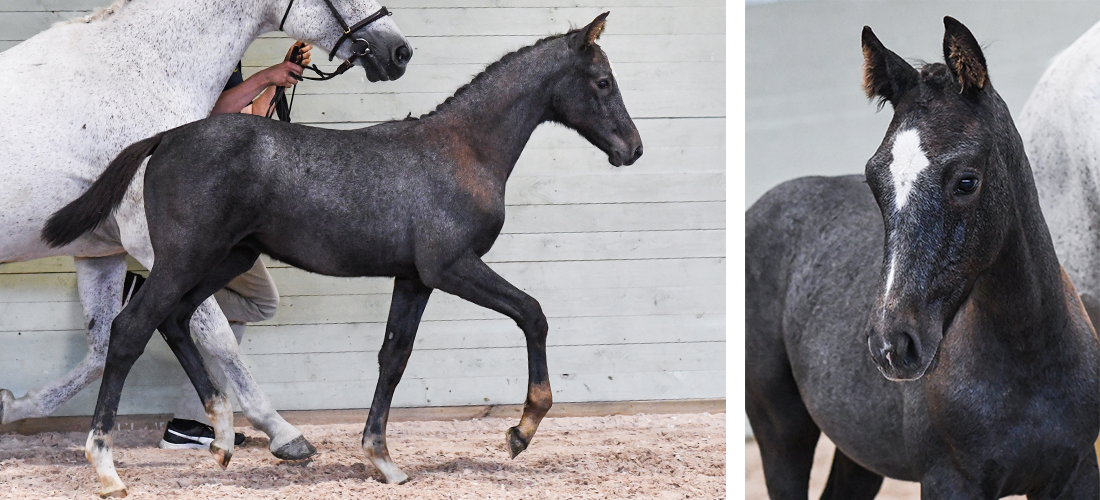 Fäderneinformation
Million Dollar 95456
Född 2012 i Belgien (Plot Blue-Vigo D'arsouilles-Cento)
Million Dollar godkändes 2015 i Tyskland där han fick 9,75 i hoppförmåga, och har sedan dess varit en av de populäraste hingstarna i sin åldersgrupp. Modern Gin Tonic de Muze har lämnat ytterligare en godkänd hingst, Odarco van het Schaeck. Mormodern är Daytona de Muze som tävlat svår klass och lämnat flera avkommor i 140–145 hoppning. Mormorsmor Wallon de Muze, var under Michel Hécart framgångsrik i svår hoppning, likaså var hennes helsyster Walnut de Muze, riden av Harrie Smolders. Längre bak i härstamningen finns det kända stoet Qerly Chin, vars avkommor är hett eftertraktade då hon är moder till toppförärvarna I'm Special de Muze, Querlybet Hero och Vagabond de la Pomme.
Säljaruppgifter
Anna Holmgren
Ekby Östergården 2
542 93 Mariestad
+46 709 – 994 694
anna@ofeast.se
Ägaren är momspliktig
Sire
Million Dollar 95456
Born 2012 in Belgium (Plot Blue-Vigo D'arsouilles-Cento)
Million Dollar was approved in Germany in 2015 where he received 9,75 for jumping capacity and since then has been one of the most popular stallions of that year. The dam Gin Tonic de Muze has produced yet another approved stallion, Odarco van het Schaeck. The granddam, Daytona de Muze competed in S class and has produced several offspring in 1.40 m – 1.45 m. The great granddam Wallon de Muze, was successful in S class jumping under rider Michel Hécart, as well as her full sister Walnut de Muze, ridden by Harrie Smolders. Looking further back, we find the world-renowned dam line of Qerly Chin whose offspring are wildly sought after as she is the dam of the top producers I'm Special de Muze, Querlybet Hero and Vagabond de la Pomme.
Seller
Anna Holmgren
Ekby Östergården 2
542 93 Mariestad
+46 709 – 994 694
anna@ofeast.se
The owner is liable for VAT
Möderneinformation / Dam line
| | | | |
| --- | --- | --- | --- |
| Casandra Z | | 2003 2 avk 14-19, 135 hoppn. | |
| 14 | Wilma Z | S e Warrant | |
| 19 | Millions of East | H e Million Dollar | |
| Celine 53 | | 1997 5 avk 03-10, | |
| 03 | Casandra Z | S e Carthago | 130 hoppn. |
| 09 | Carla Z | S e Chippendale Z | 140 hoppn., Exp. USA |
| 10 | Inez Z | S e Iowa | H-index 125 Exp. Nederländerna |
| Pamina | | 1987 8 avk 91-01 8 avk 91-01 | |
| 91 | Renoir's Son | H e Renoir I | Sv hoppn. |
| 92 | Cyrenaika | S e Carte d'Or | |
| | 00- Phelister | H e Pavarotti vd Helle | Msv hoppn. |
| 96 | Cinderella | S e Casaretto | 150 hoppn |
| | 00- Rush On | H e Rockwell | Kårad Westf., PSG Dr. |
| 99 | Papillon | H e Pavarotti vd Helle | 150 hoppn. |