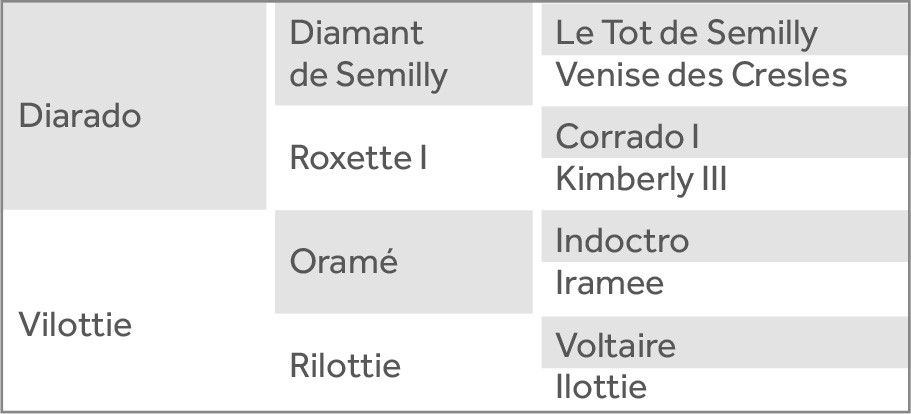 Fäderneinformation
Diarado
Född 2005 i Danmark (Diamant de Semilly – Corrado I – Contender)
Diarado har haft aveln som sin huvudsakliga sysselsättning men har trots det tävlat upp till 150 hoppning. Redan under sitt första år betäckte han över 500 ston och har knappast minskat i popularitet de senaste åren. Men med över 70 godkända söner och toppar i internationella unghästklasser behöver han knappast bevisa mer. Hans mest framgångsrika avkommor är Don Diarado, godkänd hingst som tillsammans med Maurice Tebbel tävlar framgångsrik i internationella Grand Prix-klasser samt Dicas som tävlas av Margie Goldstein-Eagle och bland annat deltagit i Global Champions Tour. I Sverige är Diarado fader till fem godkända hingstar. Diarado är också fader till de i SWB godkända Dylan N 1312, internationell 145 hoppning, Daquar CC 1236, 155 hoppning, Diero Lux N 1280, internationell 140 hoppning, Mr Vain GJ 1324, placerad Unghäst-VM o segrare i Breeders Trophy som femåring samt Diador 1258
Diarados mor Roxette har lämnat Diarados helbror, Diadorado, även han godkänd för avel. Mormor Kimberly III har lämnat den godkände hingsten Crawford samt tre avkommor i internationell 160-hoppning. Mormors mor har lämnat en godkänd hingst samt fyra avkommor i 140 hoppning och en i 150 hoppning.
Säljaruppgifter
Erica, Emma & Lena Borssén
Uleberg 335
464 65 Brålanda
vilottie@gmail.com
Ägaren är inte momspliktig
Sire
Diarado
Born 2005 in Denmark (Diamant de Semilly – Corrado I – Contender)
Diarado has been a breeding stallion first and foremost, however still managed to compete up to 1, 50 m jumping. He covered 500 mares in his first season and his popularity has not decreased over the years. With more than 70 approved sons and horses winning in the international young horse classes he' definitely proven himself. His most successful offspring are Don Diarado, approved stallion that under Maurice Tebbel is successful In Grand Prix classes and Dicas that is competed by Margie Goldstein-Eagle with jumping the Global Champions Tour among other things. In Sweden Diarado has sired five approved stallions; Dylan N 1312, international 1,45 m, Daquar CC 1236, 1,55 m , Diero Lux N 1280, international 1,40 m, Mr Vain GJ 1324, placed in the World Young Horse Championships and victory in Breeders Trophy as a five year old and Diador 1258.
The dam Roxette produced the full brother Diadorado, also approved for breeding. The granddam Kimberly III produced the approved stallion Crawford and three offspring in international 1, 60 m jumping. The granddam's dam produced an approved son and four offspring in 1, 40 m jumping and one in 1, 50 m.
Seller
Erica, Emma & Lena Borssén
Uleberg 335
464 65 Brålanda
vilottie@gmail.com
The owner is not liable for VAT
Möderneinformation / Dam line
| | | | |
| --- | --- | --- | --- |
| Vilottie |   | 2002 6 avk 06-17, Stb Ster, 130 hoppn., H-index 120 | |
| 06 | Victoria Lottie | S e Upgrade | H Dipl., H-index 128 |
|   | 10- Veroniqa Lottie | S e Quintender | H Dipl., H-index 135 |
| 12 | Vienna Lottie | S e Verdi |   |
| 13 | Diva Lottie | S e Diarado |   |
| 14 | Dilba Lottie | Dilba Lottie |   |
| 15 | Lottie's Diggi Steve | H e Diarado | H Dipl |
| 17 | Bonnie du Lottie | S e Balou du Rouet |   |
| Rilottie |   | 1998 12 avk 02-17, Stb Ster Pref Prest |   |
| 03 | Wilottie | S e Corland | 130 hoppn. |
| 07 | Cote d'Or | H e Odermus R | Int. 130 hoppn. |
| 08 | Dilottie | S e Oramé | Int. 2* Ft. |
| Ilottie |   | 1990 12 avk 94-08, Stb Prest Elite |   |
| 94 | Milos | H e Corleone | 140 hoppn. |
| 96 | Olottie | S e Hamlet |   |
|   | 06- Beau | H e Larino | 135 hoppn. |
| 98 | Rilottie | S e Voltaire | Stb Ster Pref Prest. |
| 99 | Samorano | H e Voltaire | Msv A Dr. |
| 02 | Watermill Vision | H e Namelus R | Int. 5* Ft. (Nicola Wilson) |
| 03 | Wilottie | S e Corland | 130 hoppn. |
| 06 | Bilottie | S e Padinus |   |
|   | 11- Georgina EB | S e Spartacus | Int. 135 hoppn. |