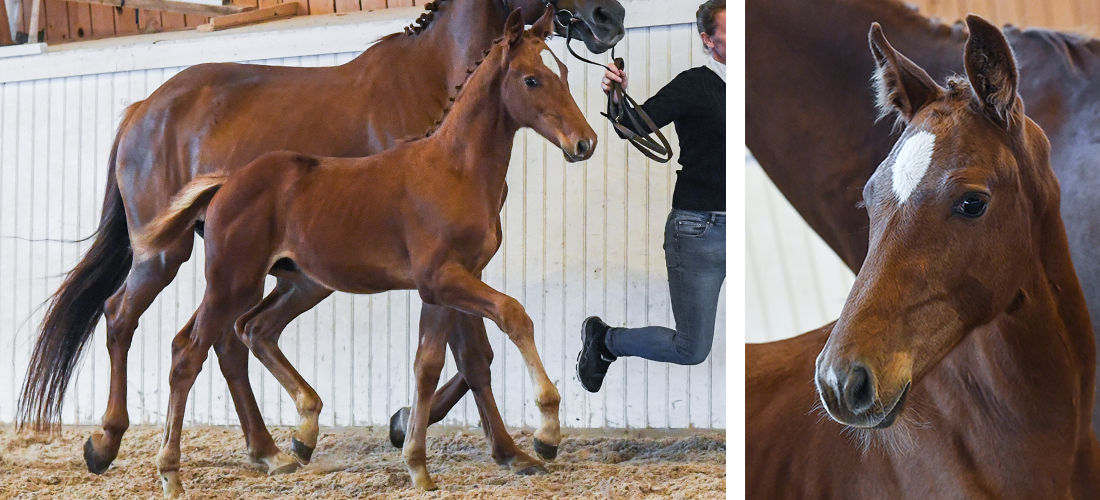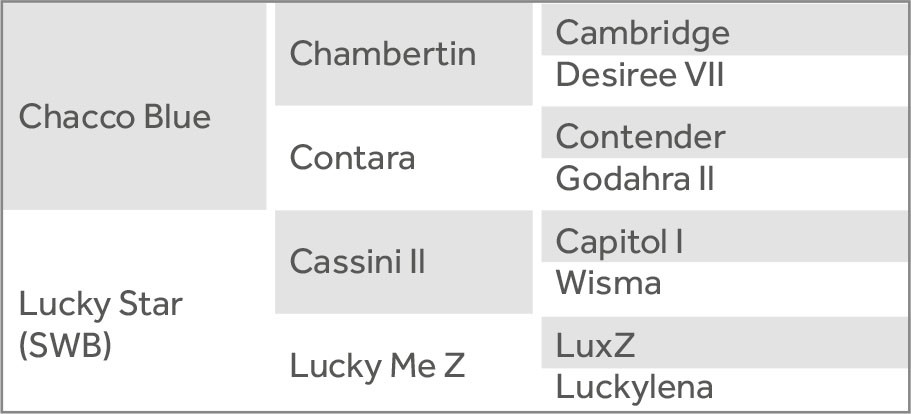 Fäderneinformation
Chacco Blue 95213
Född 1998 i Tyskland (Chambertin – Contender – Godavari xx)
Chacco Blue är en av de största avelshingstarna i modern tid och har egna tävlingsmeriter i 160 hoppning. Trots en flitig tävlingskarriär och väldigt begränsad tillgång på fryst semin har han hittills producerat 68 godkända söner, 132 avkommor i 160-hoppning och mer än 450 hästar i svår hoppning. De två senaste åren har han varit i topp på WBFSHs ranking och dessförinnan bland de tio högst rankade fadershingstarna. Några av hans mest kända avkommor är Explosive W som nu senast vann EM-silver tillsammans med Ben Maher. Chacco Blue har också lämnat Chaqui Z som med Shane Sweetnam tog lagguld vid EM i Göteborg 2017.
Säljaruppgifter
Nissekalle Gustafsson
Rumma Gård
594 92 Gamleby
+46 733 – 389 117
nissekalle@icloud.com
Ägaren är momspliktig
Sire
Chacco Blue 95213
Born 1998 in Germany (Chambertin – Contender – Godavari xx)
Chacco Blue is one of the top breeding stallions in modern times and has merits of his own up to 1.60 m jumping. In spite of a very productive show career and limited access to frozen semen, he has managed to produce 68 approved sons, 132 offspring in 1.60 m jumping and more than 450 horses in S-class jumping. The last two years he's been at the top of the WBFSH's ranking list and before that he's been among the top ten ranked sires in jumping. One of his most well-known offspring is Explosive W that just recently won the silver medal at the European Championships under Ben Maher. Chacco Blue also produced Chaqui Z that under Shane Sweetnam captured the team gold medal at the 2017 European Championships in Gothenburg.
Seller
Nissekalle Gustafsson
Rumma Gård
594 92 Gamleby
+46 733 – 389 117
nissekalle@icloud.com
The owner is liable for VAT
Möderneinformation / Dam line
| | | | |
| --- | --- | --- | --- |
| Lucky Star | | 2008 5 avk 13-19, H-index 126 | |
| 13 | Good Luck B | S e Semper Fi | H-index 129 |
| 15 | Hello Lucky | S e Balou du Rouet | |
| 16 | Lucky Lady | S e Action Blue | |
| 17 | Lucky Larry | H e Heartbeat | |
| 19 | Good Luck Chuck | H e Chacco Blue | |
| Lucky Me Z | | 2001 5 avk 06-12, H-index 130 | |
| 06 | Lucky Boy | H e Cassini II | 130 hoppn. |
| 08 | Lucky Star | S e Cassini II | H-index 126 |
| 10 | Lucky Lisa | S e Heartbeat | H Dipl., ** Prest.kl. Int. 155 Hoppn. Alexander Zetterman, H-index 151 |
|  12 | Lucky Chance | H e Connor | H Dipl. |
| Luckylena | | 1997 4 avk 01-17, Msv hoppn., ** Prest.kl. | |
|  01 | Lucky Me Z  | S e Lux Z | H-index 130 |