Dominator 2000 Z · For Pleasure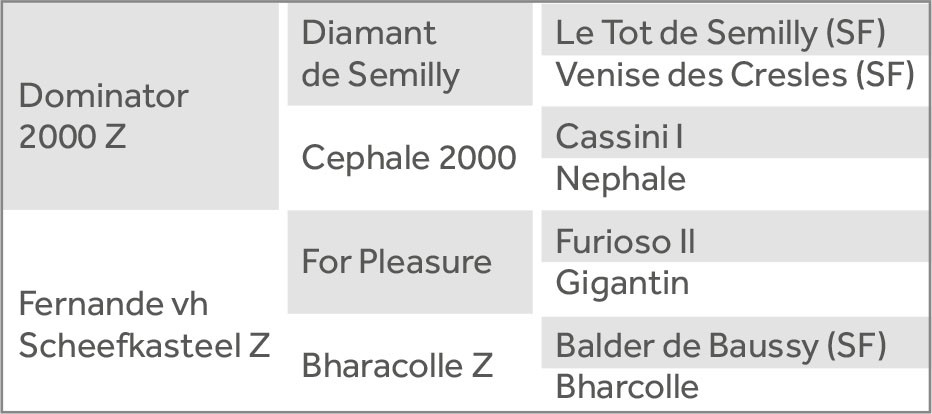 Fäderneinformation
Dominator 2000 Z 9331
Född 2010 i Belgien (Diamant de Semilly – Cassini I – Franklin)
Dominator gör skäl för sitt namn. Blott nio år vann han i år sin första 160-hoppning med Christian Ahlmann i sadeln. Även avkommorna går som tåget runt om i Europa, allt från fölchampions till toppnoterade priser på auktionerna. Han har redan fått flera godkända söner från sina första årgångar, bland annat D'Aganix 2000 Z och Dom Perignon Z.
Modern har lämnat ytterligare en godkänd hingst, Karmann 2000 Z, och har själv tävlat upp till och med internationell 140-hoppning. Mödernelinjen har gett flera internationella tävlingshästar och godkända hingstar, bland annat Grand Prix-stoet L.B. Annaconda, svårklasshästen Concorde och de godkända hingstarna Pontecini och Cazaan.
Säljaruppgifter
Ninette Bolinder/Lögshögs Gård
Örsjö 1:100
274 61 Rydsgård
+46 702 – 300 678
ninette@hotmail.se
Ägaren är momspliktig
Sire
Dominator 2000 Z 9331
Born 2010 in Belgium (Diamant de Semilly – Cassini I – Franklin)
Dominator is living up to his name. At only nine years of age he won his first 1.60 m jumping under Christian Ahlmann. The offspring are doing extremely well all over Europe, from foal champions to top prices at the auctions. He has already produced his first approved sons from his first foal crops, among them D'Aganix 2000 Z and Dom Perignon Z.
The dam has produced yet another approved stallion, Karmann 2000 Z and she herself competed up to 1.40 m international jumping. The damline has produced several international competition horses and approved stallions, among them the Grand Prix-mare L.B. Annaconda, the S-class horse Concorde and the approved stallions Pontecini and Cazaan.
Seller
Ninette Bolinder/Lögshögs Gård
Örsjö 1:100
274 61 Rydsgård
+46 702 – 300 678
ninette@hotmail.se
The owner is liable for VAT
Möderneinformation / Dam line
| | | | |
| --- | --- | --- | --- |
| Fernande vh Scheefkasteel |   | 2011 2 avk 18-19 |   |
| 18 | Dominance for L Z | H e Dominator 2000 Z |   |
| 19 | Dominatrix for L | S e Dominator 2000 Z |   |
| Bharacole Z |   | 1995 6 avk 00-11 |   |
| 00 | Chadero Z | H e Carthago | 150 hoppn. |
| 05 | Columbus Z | H e Crown Z | Msv hoppn. |
| 09 | Faracolle vh Scheefkasteel | H e For Pleasure | 130 hoppn. |
| Bharcolle |   | 1983 10 avk 90-02, Stb prest |   |
| 91 | Jharcolle | S e Ramiro Z |   |
|   | 98- Zapador Z | H e Ramiro Z | 130 hoppn. |
|   | 99- Zutano Z | H e Zeus | 150 hoppn. |
|   | 00- Carolle Z | S e Calvin Z | 145 hoppn. |
|   | 04- Zharcolle Z | S e Ramiro Z | 135 hoppn. |
| 92 | Khomedian | H e Recruut | 150 hoppn. |
| 93 | Garmex Z | H e Grandeur | 150 hoppn. |
|  95 | Bharacolle Z | S e Balder de Baussy |   |
|   | 00- Chadero Z | H e Carthago | 155 hoppn. |
|  97 | Caracolle Z | S e Carthago | 145 hoppn. |
|   | 04- Caricolle Z | S e Caretano | 140 hoppn. |
| 98 | Carthacolle Z | S e Carthago |   |
|   | 06- flash Z | H e For Pleasure | 130 hoppn. |
| 00 | Chiqolle Z | S e Caretano | 130 hoppn. |
|   | 10- Bailacolle Z | S e Berlin | 145 hoppn. |
| 02 | Chello Z | H e Chellano Z | 155 hoppn. |