Diamant de Semilly · Cardento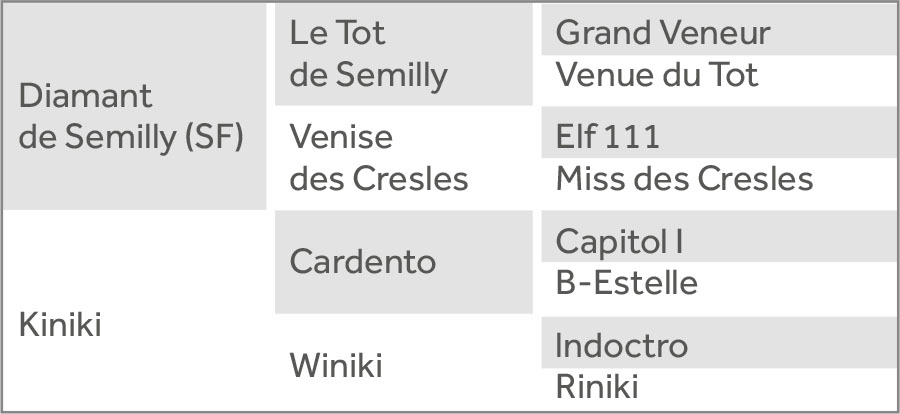 Fäderneinformation
Diamant de Semilly 95242
Född 1991 i Frankrike (Le Tot de Semilly-Elf III-Amarpour xx)
Diamant de Semilly vann det franska mästerskapet som åttaåring, och tog lagguld vid VM i Jerez 2002. Diamant de Semilly tog också lagsilver vid EM 2003 och har dessutom ett stort antal segrar i Grand Prix-klasser. Diamant de Semillys avkommor har hittills tjänat ihop över 1,2 miljoner euro i vinstsummor och han har varit i toppen på WBFSHs rankinglista under flera år. Han har lämnat godkända hingstar som gått svår internationell hoppning, bland andra Don VHP Z och Emerald van't Ruytershof, båda med Harrie Smolders i sadeln. Andra toppavkommor är Quickly du Kreisker och Hello Guv'nor som båda varit framgångsrika i internationell Grand Prix.
Säljaruppgifter
Ninette Bolinder/Lögshögs Gård
Örsjö 1:100
274 61 Rydsgård
+46 702 – 300 678
ninette@hotmail.se
Ägaren är momspliktig
Sire
Diamant de Semilly 95242
Born in 1991 i Frankrike (Le Tot de Semilly-Elf III-Amarpour xx)
Diamant de Semilly won the French Championships as an 8-year old, he took team gold at the WEG in Jerez 2002. He captured a team silver medal at the European Championships in 2003 and several Grand Prix-victories in 2004 and 2005. Diamant de Semilly's offspring have made more than 1,2 miljoner Euro in prize money and he's been at the top of the WBFSH ranking list for many years. He has produced approved stallions that compete in S class international showjumping; among them Don VHP Z and Emerald van't Ruytershof both under Harrie Smolders. Other top offspring are Quickly du Kreisker och Hello Guv'nor that both have been successful in international Grand Prix.
Seller
Ninette Bolinder/Lögshögs Gård
Örsjö 1:100
274 61 Rydsgård
+46 702 – 300 678
ninette@hotmail.se
The owner is liable for VAT
Möderneinformation / Dam line
| | | | |
| --- | --- | --- | --- |
| Kiniki | | 2015 1 avk 19 | |
| 19 | Diniki L | S e Diamant de Semilly | |
| Winiki | | 2003 9 avk 08-19, Stb Elite | |
| 09 | Lindehoeve's Enita | S e Vingino | Int. 1* Ft. |
| 12 | Harieko DHI | H e Contendro I | Int. 2* Ft. |
| Riniki  | | 1998 8 avk 03-12, Stb Keur Pref | |
| 03 | Winiki | S e Indoctro | Stb Elite |
| 05 | Aniki | S e Indoctro | Stb Ster Keur |
| 08 | Daniki | S e De Niro | Stb Ster Keur |
| | 12- Happy Ray | H e Dorado | Msv Dr. |
| | 14- Jet-Ray | S e Everdale | Stb Elite |
| 11 | Graniki | S e Indoctro | H-index 123 |