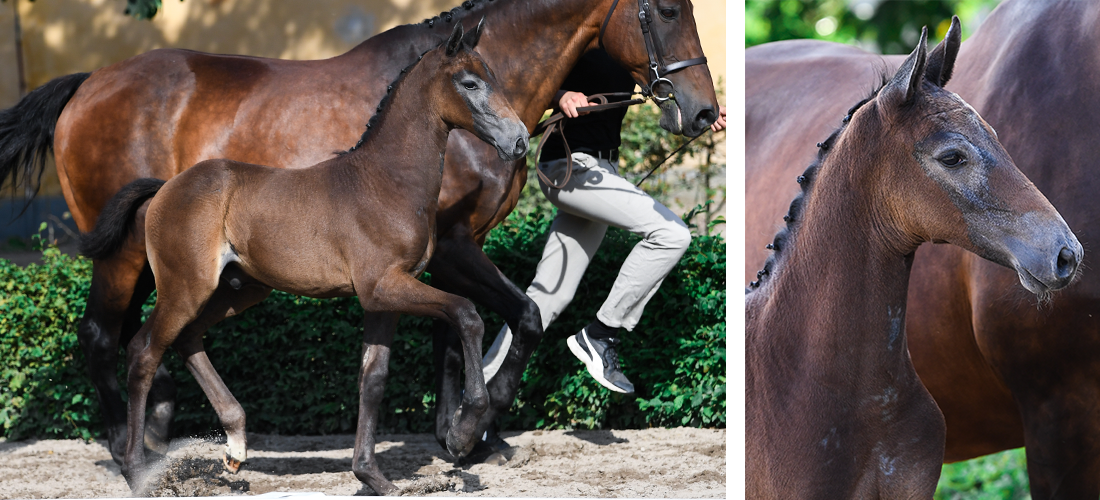 Fäderneinformation
Cristallo II 1366
Född 2007 i Tyskland (Cornet Obolensky-Cassini I-Polydor)
Cristallo II var reservchampion vid sitt bruksprov 2010 i Tyskland. Som fyraåring blev han andraplacerad vid unghästchampionaten i Westfahlen och 2012 kvalificerade han sig för Bundeschampionat. Cristallo II har tävlat framgångsrikt internationellt och även hans avkommor har visat sig mycket väl i unghästklasser och championat. Modern Cassie har tävlat till och med 135 hoppning. Hon har även lämnat helbrodern Cristallo I, godkänd hingst, som varit framgångsrik i internationell hoppsport. Mormodern Profilda var framgångsrik upp till svår klass i hoppning och har en godkänd helbror i svår hoppning samt en i Grand Prix dressyr.
Säljaruppgifter
Lena & Staffan Hammarskiöld
Kåstagårdsvägen 96
291 92 Kristianstad
+46 705 – 769 228
stallbjorkang@hotmail.com
Ägaren är momspliktig
Sire
Cristallo II 1366
Born 2007 in Germany (Cornet Obolensky-Cassini I-Polydor)
Cristallo II was the reserve champion at his stallion performance test in 2010 in Germany. As a 4 – year old he won a silver medal at the young horse championships in Westfahlen and in 2012 he qualified to the Bundeschampionate. Cristallo II has competed successfully on an international level and his offspring have shown well in the young horse classes and championships. The dam Cassie competed up to 1.35 m. She also produced the full brother Cristallo I, successful in international showjumping. The grand dam Profilda was successful up to S class jumping, she has an approved brother in S-class jumping and one in Grand Prix.
Seller
Lena & Staffan Hammarskiöld
Kåstagårdsvägen 96
291 92 Kristianstad
+46 705 – 769 228
stallbjorkang@hotmail.com
The owner is liable for VAT
Möderneinformation / Dam line
| | | | |
| --- | --- | --- | --- |
| Gabriella I (46) |   | 1999 4 avk 03-19, 140 hoppn., H-index 130 |   |
| 03 | Notre Dame IV (46) | S e Irco Mena | ** Prest.kl., H-index 132 |
|   | 15- Cayman | H e Camaro M | H Dipl. |
| 17 | Notre Dame V (46) | S e Kannatol |   |
| 18 | For Ellen (46) | S e For Laubry |   |
| 19 | Crystal | H e Cristallo II |   |
| Racel (46) |   | 1984 12 avk 88-02 |   |
| 88 | Cornelius | H e Casper | Msv hoppn., Exp. USA |
| 91 | Desiree (46) | S e Bonaparte | G+H Dipl. |
| 94 | Rurik | H e Roderik | Msv hoppn. |
| 99 | Gabriella I (46) | S e Cardento | 140 hoppn., H-index 130 |
| 02 | Surprise (46) | S e Prestige VDL |   |
|   | 13- Fighting Shakira (46) | S e Fighting Alpha | H Dipl |
| Gabriella (46) |   | 1964 8 avk 69-84, Msv hoppn., Elit |   |
| 70 | Idiella (46) | S e Idealist | Dipl., Elit, Msv hoppn. |
|   | 74- Nevella (46) | S e Nepal | G Dipl, Msv hoppn. |
|   | 76- Isotop | H e Nepal | Msv Dr. |
|   | 83- Ida (46) | S e Manesco xx | H Dipl., Sv hoppn. |
|   | 86- Mariella (46) | S e Lenski | G Dipl |
|   | 90- Runa (46) | S e Romano | G Dipl., Msv hoppn. |
|   | 91- Ronja (46) | S e Romano | G+H Dipl., BT-final hoppn., Msv hoppn. |
| 77 | Notre Dame III (46) | S e High Perch xx | G+H Dipl., Sv Ft |
|   | 81- odöpt | H e Åskmolnet | G Dipl., Msv Ft. |
|   | 92- Boston | H e Electro | G Dipl., Msv Dr. |
|   | 97- Rafael | H e Roderik | Sv hoppn. |
|   | 00- Quisimodo | H e Quite Easy | Msv hoppn. |
| 82 | Weronica (46) | S e Limelight | Sv hoppn. |