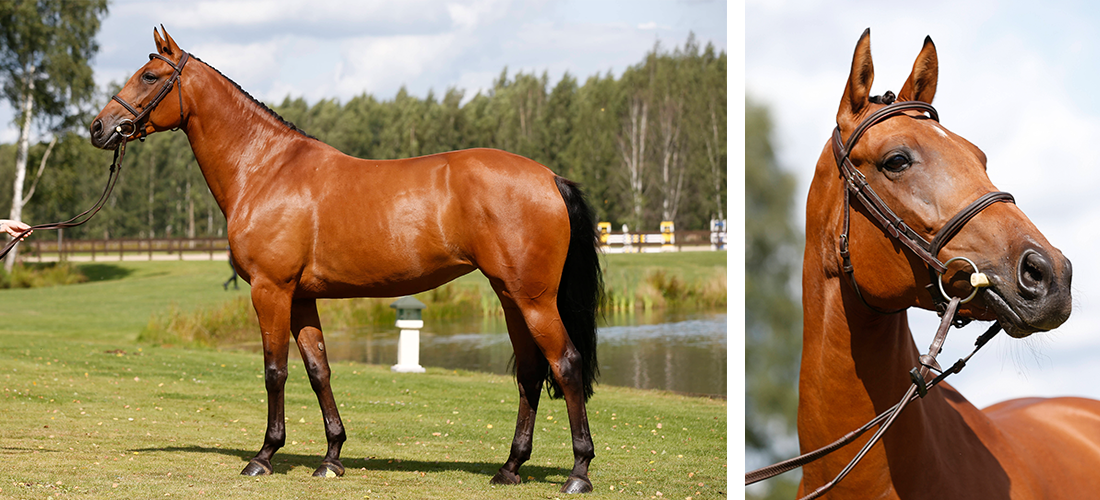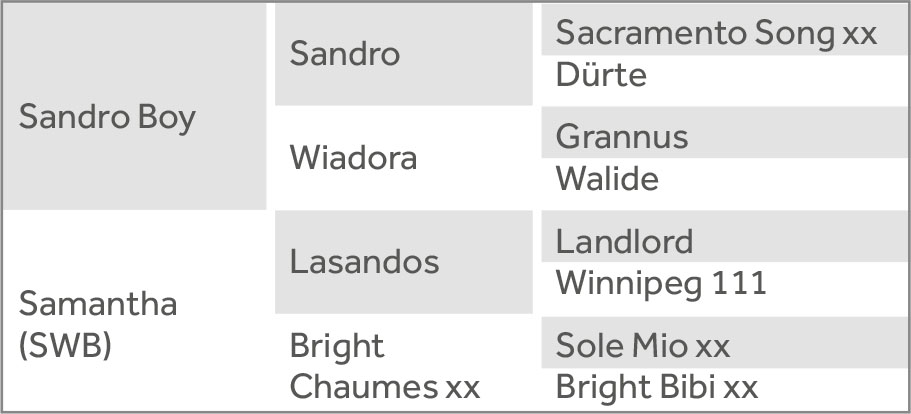 Fäderneinformation
Sandro Boy 95303
Född 1993 i Tyskland (Sandro – Grannus – Argentinus)
Sandro Boy har tillsammans med Marcus Ehning tävlat på allra högsta nivå under många år. De har bland annat vunnit ett flertal internationella Grand Prix-hoppningar och även varit på prispallen i tyska mästerskapet. Sandro Boy segrade även i världscupsfinalen 2006, och var felfri under hela tävlingen. Han har dessutom lämnat närmare 30 godkända söner och otaliga avkommor i svår klass i hoppning. Dottern Sabrina har även hon tävlat tillsammans med Marcus Ehning på allra högsta nivå med vinster och placeringar. Sandro Boys mor, Wiadora, har lämnat ytterligare en son i internationell 160 hoppning. Mormodern Walide har lämnat två godkända söner, samt flera framgångsrika tävlingshästar i hoppning.
Säljaruppgifter
Knut-Axel Nordenbelt
Branteviksvägen 141
272 38 Brantevik
+46 703 – 926 780
konsult@nordenbelt.se
Ägaren är momspliktig
Sire
Sandro Boy 95303
Born 1993 in Germany (Sandro – Grannus – Argentinus)
Sandro Boy competed under Marcus Ehning at the very top level for many years. They won several international Grand Prix jumping competitions as well as the German Showjumping Championships. Sandro Boy won the 2006 World Cup final with no faults throughout the whole competition. He's produced close to 30 approved sons and many offspring in S-class jumping. The daughter Sabrina competed under Marcus Ehning at top level with victories and placings. The dam Wiadora, produced yet another son in international 1, 60 m jumping. The granddam Walide produced two approved sons and several successful competition horses in jumping.
Seller
Knut-Axel Nordenbelt
Branteviksvägen 141
272 38 Brantevik
+46 703 – 926 780
konsult@nordenbelt.se
The owner is liable for VAT
Möderneinformation / Dam line
| | | | |
| --- | --- | --- | --- |
| Samantha | | 1997 7 avk 01-13, | |
| 03 | Petite Four Mi | S e Pentagon | |
| 05 | Florescence | S e For Feeling | H Dipl. |
| 06 | Corentho | H e Cardento | |
| 08 | CopyTo | H e Caressini L | |
| 10 | Coral 66 | S e Casir Ask | |
| 13 | Corescel Girl | S e Sandro Boy | 130 hoppn. |
| Bright Chaumes xx | | 1982 3 avk 96-98 | |
| Bright Bibi xx | | 1970 2 avk 79-82 | |
| 79 | Bright Dick xx | H e Dictus xx | Gdk. hingst SF. |