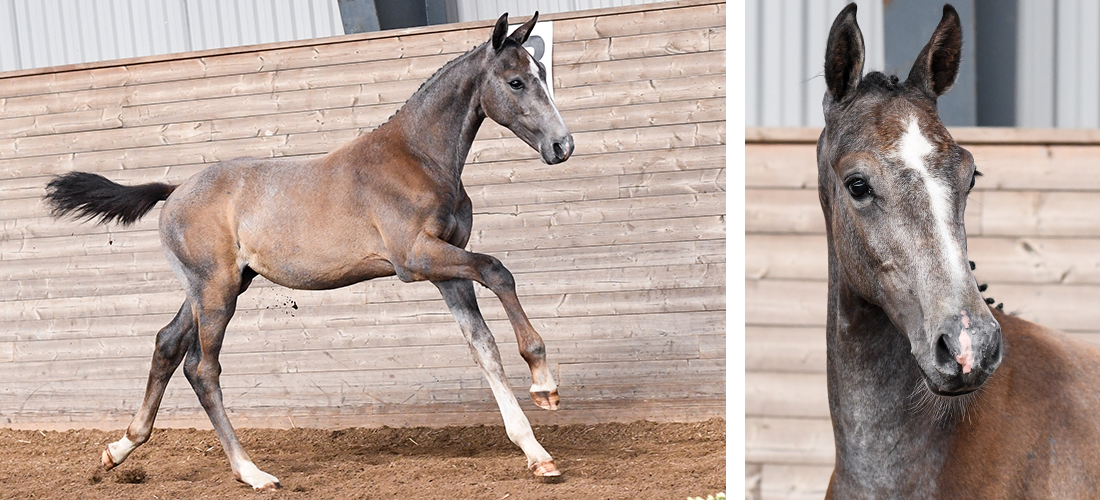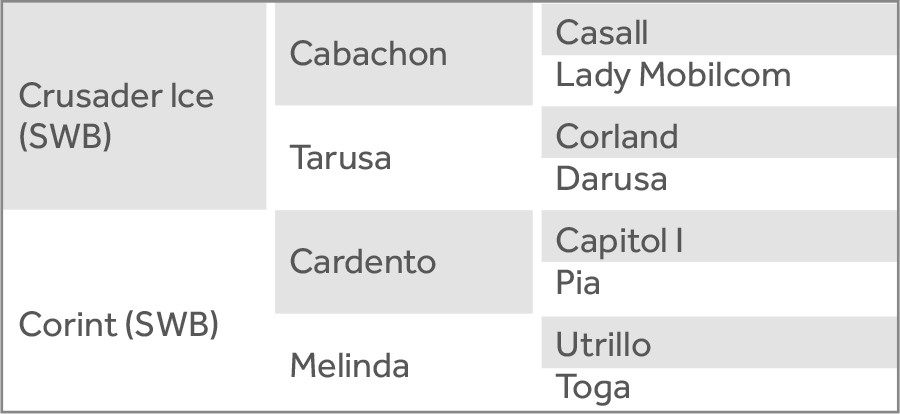 Fäderneinformation
Crusader Ice (SWB) 1357
Född 2011 i Sverige (Cabachon-Corland-Nimmerdor)
Crusader Ice godkändes vid sitt bruksprov 2017 och belönades där med 9–9 för sin hoppning. Han premierades för sina snabba reaktioner, kraftfulla och distinkta avstamp framför hinder, sättet att använda kroppen rätt över hinder samt en bra galopp. Testryttarna gav Crusader Ice 10–9 i hoppbetyg med utlåtandet att han är en komplett häst som ger en fantastisk känsla, har scoop och extremt bra ridbarhet med en fin och reglerbar galopp. Tillsammans med Stephanie Holmén och Peder Fredricson har hingsten tävlat framgångsrikt i internationell 145 hoppning.
Modern Tarusa är ett välmeriterat sto genom sina avkommor. Hon är Elitsto och har ett hoppindex på 159. Mest framgångsrika avkomman är Fibonacci (ex. Fendi) som först tävlades i Sverige av Lisen Bratt Fredricson, för att senare tävlas av Meredith Michaels Beerbaum på högsta internationella nivå. Tarusa har också lämnat Quicksilver som tävlar i 150 hoppning och dottern Vera Vang har radat upp fina placeringar genom unghästchampionaten och upp till och med 145 hoppning. Vitra var placerad i Falsterbo som femåring och vann Breeders Trophy för sexåringar 2017.
Säljaruppgifter
Regina Ericson
Ekesjö 1
611 93 Nyköping
+46 704 – 444 917
regina.ericson111@gmail.com
Ägaren är momspliktig
Sire
Crusader Ice (SWB) 1357
Born 2011 in Sverige (Cabachon-Corland-Nimmerdor)
Crusader Ice was approved at the stallion test in 2017 and was awarded 9-9 for jumping and for his quick reactions, powerful and distinct take –off, his ability to use his body over the jumps and for his very good canter. The test riders gave him 10-9 for his jumping, stating that he is a complete horse that gives a fantastic feeling, has scope and an extremely nice rideability with a nice, adjustable canter. Together with Stephanie Holmén and Peder Fredricson the stallion has competed successfully up to 1.45 m internationally.
The dam Tarusa is a mare with merit through her offspring. She is an ELIT mare with a breeding index for showjumping of 159. Her most successful offspring is Fibonacci (ex. Fendi) that was first competed in Sweden by Lisen Bratt Fredricson, and later by Meredith Michaels Beerbaum at top, international level. Tarusa also produced Quicksilver (1. 50 m) and the filly Vera Vang with nice placings in the Young Horse championships and later jumping up to 1.45 m. Vittra placed in Falsterbo as a 5-year old and won Breeders Trophy for 6-year olds in 2017.
Seller
Regina Ericson
Ekesjö 1
611 93 Nyköping
+46 704 – 444 917
regina.ericson111@gmail.com
The owner is liable for VAT
Möderneinformation / Dam line
| | | | |
| --- | --- | --- | --- |
| Corint | | 2000 2 avk 18-19, 130 hoppn., * Prest.kl., H-index 126 | |
|  18 | Cayenne E | S e Crusader Ice | |
|  19 |  Cayman E | H e Crusader Ice | |
| Melinda | | 1985 8 avk 91-00 | |
|  92 | Felicia  | S e Feliciano | Msv hoppn. |
|  93 | Fellini  | H e Feliciano | G+H Dipl., Msv Dr., Msv Hoppn. |
|  94 | Rocca  | S e Roderic | Msv hoppn. |
|  95 | Amelia | S e Alcatraz | H Dipl. Delt. BT Hoppn. |
| | 04- Sputnik | H e Spender S | Delt. Scand. Open, 130 hoppn. |
|  97 | Alva | S e Alcatraz | H Dipl., Msv hoppn. |
| | 01- Ella  | S e Elmshorn | H-index 120 |
| 00 | Corint  | S e Cardento | 130 hoppn., * Prest.kl., H-index 126 |
| Toga | | 1978 8 avk 85-96 | |
|  87 | Mirco  | H e Irco Marco | Msv hoppn |
|  94 | Camomill  | S e Rastell | |
| | 98- Gabrielle | S e Pentagon | H Dipl. |