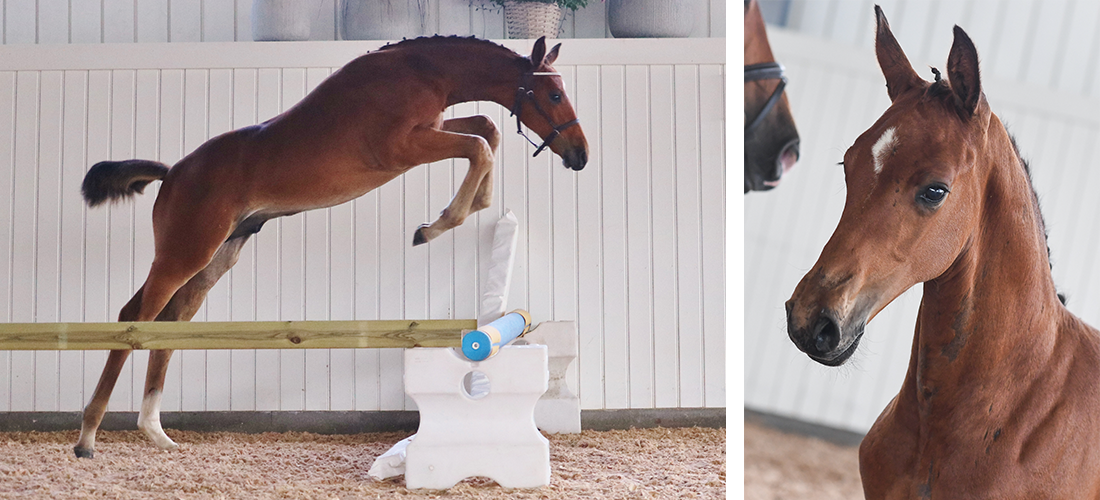 Fäderneinformation
Chacfly PS 95461
Född 2012 i Tyskland (Chacco-Blue-Sir Shutterfly-Cento)
Chacfly PS gjorde sitt bruksprov i Tyskland med fantastiska 9,49 som slutpoäng, och han belönades då med tio poäng för bland annat sin hoppkapacitet. Han har senare varit framgångsrik med många segrar i unghästklasser.
Han kommer ur en prestationsstark mödernelinje där modern Shentara är syster till den godkända och internationellt framgångsrika Quickcento. Moderns syster Nintara är tävlad upp till 160 hoppning. Mormors mor Gettina tävlade i 140-klasser med Otto Becker innan hon sattes in i aveln.
Säljaruppgifter
Laila Malmsköld Gustafsson
Björkil 110
662 91 Åmål
+46 705 – 210 614
magnus.nyman@nordic-paper.com
Ägaren är inte momspliktig
Sire
Chacfly PS 95461
Born 2012 in Germany (Chacco-Blue-Sir Shutterfly-Cento)
Chacfly PS did his performance test in Germany with the outstanding total score of 9,49 where he was awarded a 10 for his capacity in jumping. Later he has proven successful with many victories in the young horse classes.
Chacfly comes out of a performance oriented damline where the dam Shentara is sister to the approved and internationally successful Quickcento. The dam's sister Nintara has competed up to 1,60 m. The granddam's dam Gettina jumped 1.40 m under Otto Becker before going in to breeding.
Seller
Laila Malmsköld Gustafsson
Björkil 110
662 91 Åmål
+46 705 – 210 614
magnus.nyman@nordic-paper.com
The owner is not liable for VAT
Möderneinformation / Dam line
| | | | |
| --- | --- | --- | --- |
| Cattleya (40) |   | 2013 3 avk 17-19 | |
| 17 | Euphorbia (40) | S e Emmerton |   |
| 18 | Ceiba (40) | S e Conthargos |   |
| 19 | Carex | H e Chacfly PS |   |
| Calandiva (40) |   | 2007 1 avk 13 |   |
| Flitiga Lisa (40) |   | 1994 9 avk 99-10 |   |
| 99 | Caprifol (40) | S e Cardento |   |
|   | 09- Peace (40) | S e Callahan VDL | Msv hoppn., H-index 122 |
| 00 | Canna (40) | S e Cardento | H-index 123 |
|   | 09- Maiden's Blush (40) | S e Callahan VDL | Msv hoppn.H-index 132 |