Balou du Rouet · Acapulco Gold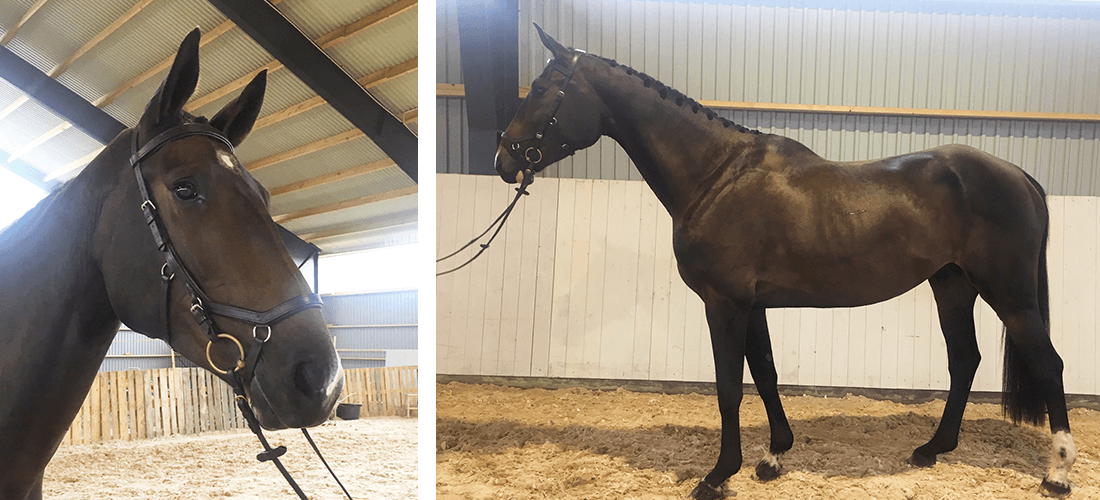 Fäderneinformation
Balou du Rouet 95144
Född 1999 i Tyskland (Baloubet du Rouet – Continue – Domino)
Balou du Rouet har en gedigen unghästkarriär bakom sig och har parallellt med sin avelskarriär tävlat i internationell svår hoppning med vinster och placeringar. Han har 88 godkända söner, 66 avkommor i 160-hoppning och totalt närmare 250 avkommor i svår hoppning. Balou du Rouet är rankad bland de tio främsta på WBFSHs rankinglistor över både bästa hopp- och bästa fälttävlansförärvare. En av hans mest aktuella avkommor just nu är Bianca som tillsammans med Steve Guerdat bland annat tog individuellt brons vid VM 2017 i Tryon. I fälttävlan har Billy the Red vunnit lagguld vid EM och kommit på en nionde plats vid VM.
Balou du Rouets moder Georgia har även lämnat de godkända hingstarna Balissimo och Cornet's Balou samt totalt fem hästar i svår klass i hoppning.
Mormodern Georgette II har lämnat den godkända och svårklassplacerade hingsten Sandrissimo. En syster till Balou du Rouet är mormor till Chageorge, en hingst som blev godkänd vid årets bruksprov i SWB.
Säljaruppgifter
Åke Berglund
Bårarp 40
556 28 Jönköping
+46 705 – 107 253
lasse-berglund@telia.com
Ägaren är momspliktig
Sire
Balou du Rouet 95144
Born 1999 in Germany (Baloubet du Rouet – Continue – Domino)
Balou du Rouet had a solid young horse career and while being an active breeding stallion also competed in S-class international jumping with victories and placings. He has 88 approved sons, 66 offspring in 1.60m jumping and close to 250 offspring in S-class jumping. Balou du Rouet is ranked among the top ten on the WBFSH ranking list of both jumper stallions and eventing stallions. One of his most current successful offspring is Bianca that under Steve Guerdat captured an individual bronze medal at the WEG in Tryon 2017. Billy the Red has a team medal at the European Championships and 9th placing at the WEG.
Balou du Rouet's dam Georgia has also produced the approved stallions Balissimo and Cornet's Balou and a total of five horses in S-class jumping.
The granddam Georgette II produced the approved and S-class placed stallion Sandrissimo. A sister to Balou du Rouet is granddam to Chageorge, approved stallion at this year's SWB stallion test.
Seller
Åke Berglund
Bårarp 40
556 28 Jönköping
+46 705 – 107 253
lasse-berglund@telia.com
The owner is liable for VAT
Möderneinformation / Dam line
| | | | |
| --- | --- | --- | --- |
| Adida | | 1993 3 avk 10-14, 140 hoppn. | |
| 10 | Umbra | S e Cardento | |
| 12 | Nike | S e Kannan | |
| 14 | Baltzar | H e Balou du Rouet | |
| Chaddidja xx | | 1981 3 avk 93-99, | |
| 93 | Adida | S e Acapulco Gold | 140 hoppn. |
| 96 | Columbus H | H e Cortez | Int. 160 hoppn. Linda Heed |
| Concilia xx | | 1971 6 avk 76-90 | |
| 77 | Cavatina xx | Se Presto xx | |
| | 90- Kulla Gulla | S e Irco Marco | H-index 128 |
| | 93- Minerva | S e Amiral | Sv hoppn. |