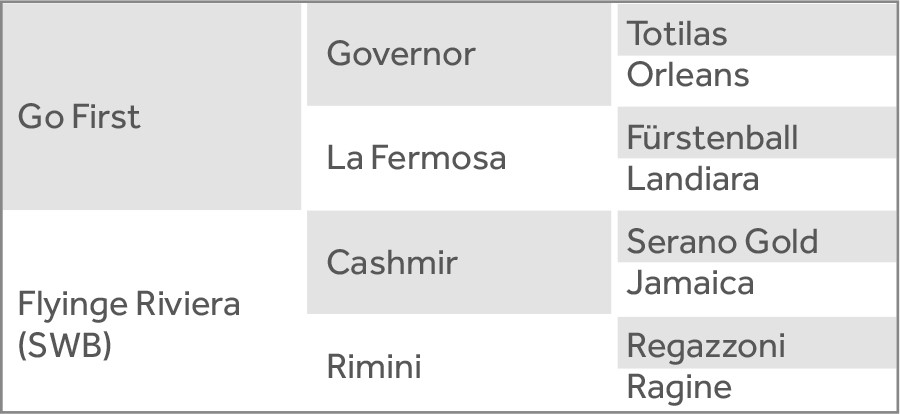 Fäderneinformation
Go First 1371
Född 2015 i Tyskland (Governor – Fürstenball – Rohdiamant)
Go First är ännu en ung hingst, men med ett möderne som inte lämnar något övrigt att önska. Hans mor La Fermosa är helsyster till den godkända hingsten Fred Feuerstein, och hon har via embryotransfer som två- och treåring lämnat ytterligare två godkända söner i Oldenburg utöver Go First. Mormor Landiara är syster till Rolls Roys, som tävlat med placeringar i Grand Prix och är exporterad till USA.
Fadern till Go First, Governor, är från Totilas första stora årgång 2011 och undan en helsyster till Adelinde Cornelissens Parzival. Governor blev utsedd till reservsegrare i KWPN 2014 och vann 50-dagarstestet senare samma år. Adelinde Cornelissen har tävlat Governor väldigt framgångsrikt i unghästklasserna, och har under unghäst-VM gjort den otroliga insatsen med en femteplacering som femåring och silvermedaljer både som sex- och sjuåring.
Säljaruppgifter
Flyinge AB
Flyinge Kungsgård
Box 3, 247 93 Flyinge
+46 46 649 00
tavling@flyinge.se
Ägaren är imomspliktig
Sire
Go First 1371
Born 2015 in Germany (Governor – Fürstenball – Rohdiamant)
Go First is still a young stallion and with a dam line that is complete. His dam La Fermosa is a full sister to the approved stallion Fred Feuerstein, and via embryo transfer she has produced yet two more approved sons in Oldenburg. The granddam Landiara is a sister to Rolls Roys, with placings in Grand Prix and now exported to the USA.
The sire, Governor, is out of Totilas' first major crop in 2011, his dam is a full sister to Adelinde Cornelissen's Parzival. Governor was the reserve champion in KWPN in 2014 and won his 50-day test later the same year. Adelinde Cornelissen has successfully competed Governor in the young horse classes and during the World YH championships they placed fifth in the fiver year old class and won the silver medal both as a six – and seven-year-old.
Seller
Flyinge AB
Flyinge Kungsgård
Box 3, 247 93 Flyinge
+46 46 649 00
tavling@flyinge.se
The owner is liable for VAT
Möderneinformation / Dam line
| | | | |
| --- | --- | --- | --- |
| Flyinge Riviera | | 2011 3 avk 16-19 | |
| 16 | Flyinge Ragazza | S e Total Hope | SWBs Elitfölauktion 2016 |
| 18 | Flyinge Just Hope | H e Total Hope | |
| 19 | odöpt | S e Go First | |
| Rimini | | 1996 10 avk 00-11, Dr-index 118 | |
| 01 | Rockefeller | H e De la Gardie | G Dipl, Exp. USA, Msv Dr |
| 04 | Uriel | H e Londonderry | G Dipl, Msv B Dr. |
| 05 | Valentino | H e Richfield | G+H Dipl, Interm. I Dr. |
| Ragine | | 1989 2 avk 96-03, Statspremiesto | |
| 03 | Rimini | S e Regazzoni | Dr-index 118 |
| | 07- Commissario | H e Catoki | Gdk hingst OS o Hann. Msv hoppn. |
| | 14- Stolz van de Helle | H e Stolzenberg | Kårad Hann. |
| 12 | Scofield | H e Stolzenberg | Msv hoppn. |